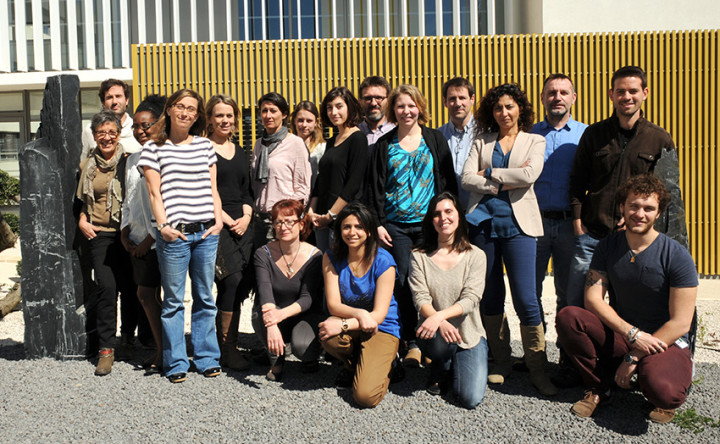 Name:
Drug resistance and new cancer treatment - IRCM - Montpellier
Leader:
Research axis :
Role of the MAPK p38 in autophagy and drug resistance.
Gene expression profiling to identify specific signatures of treatment resistance or metastasis, and alternative treatments.
Identify new therapeutic targets and / or new combination therapies in colorectal cancer and prostate cancer.
Expertise / know-how:
One of the main causes of failure in cancer treatment is the development of drug resistance by cancer cells. In the past decades, new drugs (particularly the so-called targeted therapies, such as monoclonal antibodies or tyrosine kinase inhibitors) have been developed to bypass therapeutic failure in cancer treatment. However, the assessment of these targeted therapies, either alone or in combination with standard cytotoxic agents, in clinical trials shows that, although some are efficient and have been subsequently approved for routine clinical use, many of them are not. Indeed, most solid tumors display huge genomic complexity and therefore multiple pathways or networks need to be targeted to affect tumor survival. Furthermore, the assessment of the efficacy of a new drug can be complicated by inter- and intra-patient pharmacokinetic variations that can result in unpredictable toxicity and variable anticancer effects.
The research project of our group will focus on optimizing drug therapy in two solid tumor models: colorectal cancer (CRC) and advanced prostate cancer (PCa). The main axes of our research project are: a) the identification of new predictive markers of drug response and b) the development of treatments to overcome drug resistance. To this aim,
we have generated 20 different CRC cell lines that are resistant to the drugs that are currently used in the clinic (SN38/irinotecan, oxaliplatin, 5-FU, cetuximab)1-5;
we have acquired knowledge and expertise on how to investigate the mechanisms of action of these drugs and particularly SN38/irinotecan, oxaliplatin and Cetuximab;
we have established a collection of clinical CRC samples with comprehensive clinical data on the patients6-8;
we have created a CRC expression database using patients' samples (120);
we have developed our pharmacogenomics skills, particularly on drug ADME and haplotype identification9, and
acquired expertise on autophagy assessment and its role in drug resistance10,11.
Using these tools we were the first to identify a predictive gene signature to refine the patients' response to CRC treatment and we also discovered a new therapeutic target, Claudin1. Moreover we demonstrated that the kinase inhibitor sorafenib4 and the MAPK p38 inhibitor SB2021903 can overcome irinotecan resistance through two different molecular mechanisms. Now, we are planning to carry out high throughput analyses (Synthetic Lethality screening and transcriptome analysis) using well characterized samples (drug-resistant/drug-sensitive cancer cell lines and clinical specimens) to further explore drug resistance/sensitivity and the genes involved in such mechanisms. This new work should lead to the identification of novel therapeutic targets and of biomarkers to predict each patient's response to therapy.
Location:
IRCM, INSERM U1194, MONTPELLIER
Website: